This article describes the Sitecore policies and processes for monitoring customer-related cloud infrastructure and notifying customers of any impact on the service.
Sitecore regularly monitors the availability and performance state of all key components of the following services:
Sitecore Managed Cloud – 24x7x365 (scope clarification)
xDB Cloud – 24x7x365
EXM Delivery Cloud – 24x7x365
App Center and all apps – monitored during business hours
Upon detecting a potential outage or service degradation, as part of the monitoring effort, the Sitecore Support team analyzes the situation with the goal of restoring normal service operation in the shortest possible timeframe.
Sitecore also occasionally performs maintenance activities on the related cloud infrastructure. Such activities are always performed with the goal of minimizing or avoiding any impact on customer production systems.
To get access to Sitecore Support Portal, refer to
Access To Support
section of
How to use the Sitecore Support Portal
article.
Service health information is displayed on the Availability page. Sitecore duplicates health status changes by email. The customer's email address is referenced from the Technical Contact section of the service contract.
The Availability Page consists of two main sections:
Filter section
Records section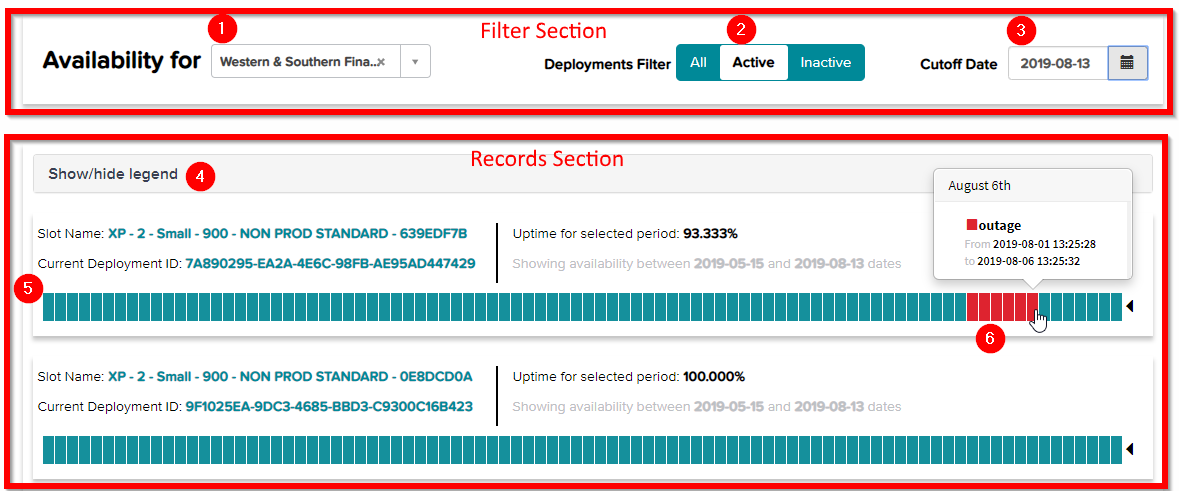 Filter section provides the controls for customization of Availability section:

Availability for (1) – selects a required subscription
Deployment Filter (2) – filters the slots by Activity state
Cutoff Date (3) – The latest date to show availability
Records section:
Show/hide legend (4) – expands the color legend for records
Deployment record (5) shows the following information

Slot Name
Current Deployment ID
Uptime for selected period
Period of shown availability
Availability chart – color coding according to legend
Hover availability chart item to get an overview (6).
Click availability chart item to get deleted information on events. Information window provides the list of the issues (7) on the left part. Click an item to get the details (8).